Dee MC
Dee MC is an Indian rapper, singer, songwriter, and hip-hop artist. She represented Indian internationally at the Alchemy Festival in the UK in 2017, La Belle Hip Hop Festival in Belgium in 2018, and Desi Fest in Canada in 2019.
| | |
| --- | --- |
| Born | On Monday, 14 February 1994 |
| Real Name | Deepa Unnikrishnan |
| Profession | Rapper |
Bio
---
Dee MC was born as Deepa Unnikrishnan on Monday, 14 February 1994. She is 29 years old as of Year 2023. She appeared in a cameo role in the 2019 Bollywood film "Gully Boy".
Family
Dee MC belongs to a Malayali family in Mumbai. Her father, Unnikrishnan Pisharody, works in Dammam, Saudi Arabia. He is an NRI, who was born in Kerala but brought up in Mumbai. Her mother, Jayashree, is a homemaker. She has an elder sister named Divya.
Education
She went to Lok Kalyan Public School in Kalyan, Maharashtra, where she participated in poetry writing, elocution, and debate competitions.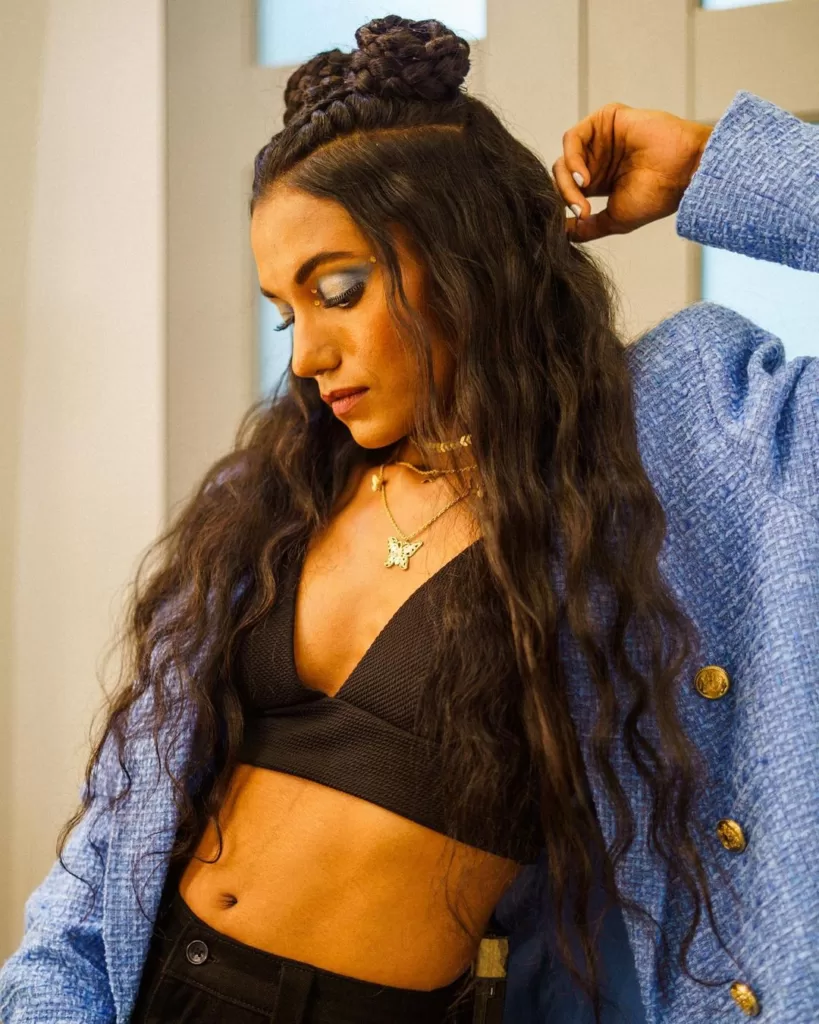 Career of Dee MC
---
Rapper
At the age of 5, she started learning Bharatanatyam. She started listening to hip-hop when she was in the sixth standard. Her parents wanted her to pursue chartered accountancy and get a decent job.
In an interview, she revealed that she took the CA entrance test twice; however, she could not qualify for the test. In an interview, she talked about her failure in the CA exams.
At the age of 18, she wrote her first song when she was in her first year of college. In 2011, she uploaded a cover video of Nicki Minaj's song; someone replied to her after watching her cover video and advised her that if she was serious about rapping, she should get out of Kalyan and get in contact with the hip-hop scene in Mumbai.
Singles
She debuted with the song "Talk My Way" on 30 October 2013, which was the first video released on her YouTube channel. After one year, on 30 October 2014, she released her second single "Greenhouse Effect." In the same year, she released the song titled "Kal" in which she rapped in both Hindi and English languages.
She came up with the song "Chaar Logo Ki Baatein" in 2015. In 2017, Deepa rapped in the song "Taking My Time" produced by Kru172. In 2021, Dee MC released the song "PRETTY EYES", and it gained more than 400k views on You Tube in one year. She released the song "Haath Hi Mera Saathi" in 2022, which was written, conceptualised, and performed by her.
Albums
In 2019,she released her debut album "Dee=MC2". The album contained seven tracks and featured artists including MC Altaf, D'Evil, Poetik Justis, and more. The whole album was produced by Sunit Music.
Controversy
EPR and DEE MC comments are terrible for hip-hop(Hustle)
Dee MC comments to LXSH:
DEE MC told Lxsh that he needs to step out of comfort zone. Kyun Bhai? If an artist stays within his comfort zone and makes dope music that's good enough for the scene. I'm not looking for a multi-purpose Naptol product, just an artist who can glow in zones they are comfortable in is fine.
Shit that's made outside someone's comfort zone is mostly terrible. Insisting that it's a must-do especially early stage in career is outright bad advice. Many legends internationally have stuck to their grind and stayed within comfort zone and have created history. Don't force people to be a commodity.
EPR comments to QK:
The cringe moment here is obviously a man telling a woman who is singing about domestic abuse that "she also needs to sing about marital rape" to win his points. Would he tell a Black rapper – "oh you are singing about poverty that's cool, but not enough, I think you also need to include police brutality in this song". G**nd me goli padegi.
Conscious rap is not an essay writing competition, where you take a topic and write as many points as possible about it. This kind of thinking is a disease that Rohan Cariappa style of analysis (points system) has perpetuated in the scene. Conscious rap is about reflecting social concerns through your experience (or with empathy, someone else's) and making the audience feel moved and enraged. She did that very well for the most part. The hook especially was haunting and impactful.
Net Worth
---
According to online resources the estimated net worth of Dee MC is estimated around $200K dollars which is around 1.5 crores rupees.
The primary source of her income comes from rapping, cover songs and YouTube.
Hustle 2.0
Dee MC was also one of the squad boss in Hustle 2.0 and got a decent amount of salary from the show.
Social Media and Advertisements
Dee MC has also a best amount of social media following by which he makes decent amount of money. He had also done many TV commercials for Brands till now.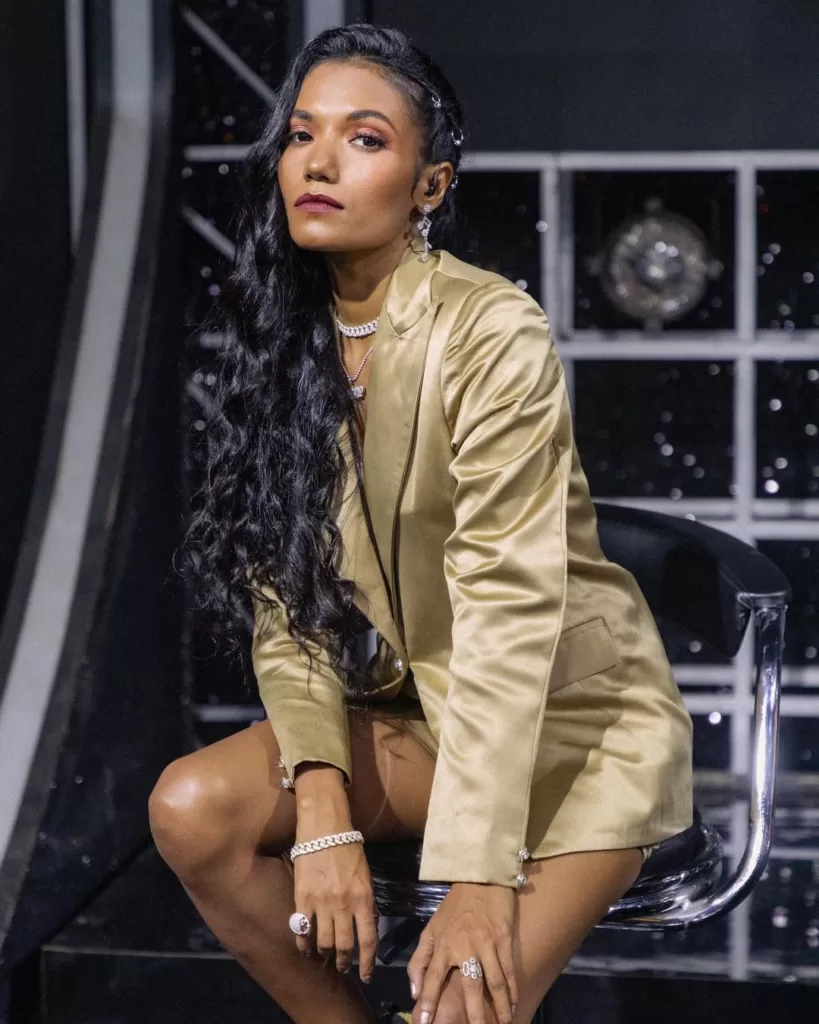 | | |
| --- | --- |
| Net Worth | $200K |
| Net Worth In Indian Rupees | 1.5 Crores |
| Monthly Income And Salary | 5 lakhs |
| Yearly Income | 60 Lakhs+ |
| Income Source | Rapper |
Social Media of Dee MC
FAQ (Frequently Asked Questions)
---
1. Why is Dee MC famous ?
Ans. A well-known face in Indian hip-hop, having collaborated with numerous brands and appearing in films and television shows.
2. How old is Dee MC?
Ans. She is 29-year-old.
3. What is the real name of Dee MC?
Ans. The real name of Deepa Unnikrishnan.
4. What is the net worth of Dee MC?
Ans. The net worth of Dee MC is estimated around 1.5 Crores.
5. From which family Dee MC belongs to?
Ans. Dee Mc belongs to Malayali family.
WEB STORIES
READ ALSO