Dinesh Karthik
Dinesh karthik is an Indian cricketer. Being Right Handed Batsman & Wicket-Keeper in the India national cricket team. He also played IPL for Royal Challengers Bangalore.
Born
01 June 1985, Madras
Profession
Cricketer
Height
5 ft 7 inch (169 cm)
Father
Krishna Kumar
Mother
Padma
Wife
1st : Nikita Vanjara (m.2007-div.2012)
2nd : Dipika Pallikal (m.2015-Preent)
Bio
---
Dinesh Karthik was born on 01 June 1985, Madras, Tamil Nadu, India. His age is around 37 years (2023).
Family
He began playing cricket at the age of 10, after a two-year period of living in Kuwait (where his father worked). He was coached in cricket by his father, who was a first-division cricketer from Chennai.
Disappointed that his career was hindered when he was forced by his family to put his education first, Karthik's father did not want his son to suffer the same fate and trained him hard from an early age.
Karthik honed his reflexes at a young age by having his father throw hard leather balls at him at high speed. He was initially a batsman and learned wicket-keeping on the Tamil Nadu youth teams, and Robin Singh considered him very fit.
Personal life
Karthik was married to Nikita Vanjara in 2007. Dinesh Karthik and Nikita divorced in 2012 due to dysfunctionalities in their relationship.
She later married Karthik's fellow cricketer Murali Vijay. He participated in the dance-reality show Ek Khiladi Ek Hasina with Nigaar Khan in 2008.
Karthik got engaged to Indian squash player Dipika pallikal in November 2013, and they married in traditional Christian and Hindu ceremonies in August 2015. The couple became parents to twin boys, Kabir and Zian on 18 October 2021.
Education
Karthik was educated in India, and at Carmel School and Fahaheel Al-Watanieh Indian Private School in Kuwait and finally from eighth standard on studied at Don Bosco Matriculation Higher Secondry School in Egmore in Chennai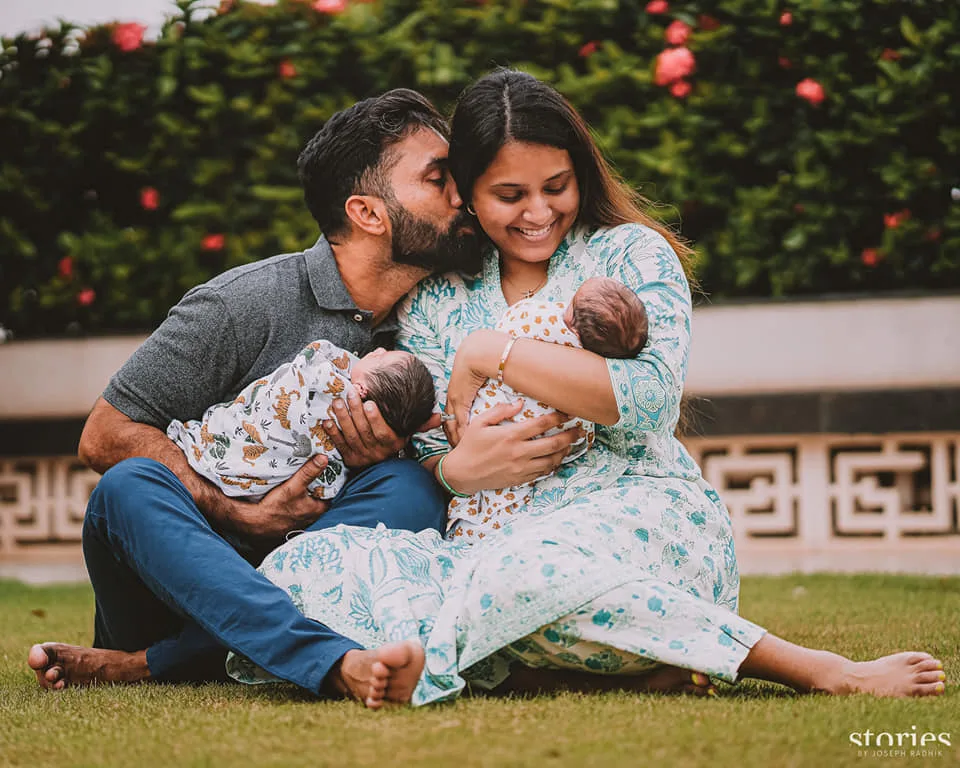 Career
---
Karthik made his Test cricket debut in the fourth Test between Australia and India in Mumbai in October 2004, replacing Parthiv Patel (who was dropped for poor wicket-keeping).
He scored 14 runs in two innings and took two catches, but was praised for his wicket-keeping on a pitch with variable bounce and spin on which 40 wickets fell in two days.
Karthik was retained for India's next engagement: a two-Test home series against South Africa. In a high-scoring draw where both teams passed 450 in the first innings.
Karthik managed only a solitary run in the first Test in Kanpur. In the second Test at Kolkata, he scored 46 runs to help extend India's first innings lead to 106 runs for the host's eight-wicket win.
Dhoni scored 148 in an ODI against Pakistan, and he replaced Karthik for the three Tests at home against Sri Lanka. In ten tests since his debut.
Karthik scored 245 runs for an average of 18.84 with one half-century and one other score above 25. He was selected as a back-up wicket-keeper and middle-order batsmen on the Test team in November 2006.
Country
India
Test Debut
03 November 2004 v Australia (Cap 250)
ODI Debut

05 September 2004 v England (Cap 156)
T20I Debut
01 December 2006 v South Africa (Cap 04)
Jersey No.
21
IPL
2008-2010,2014: Delhi Daredevils
2011 : Kings XI Punjab
2012-2013 : Mumbai Indians
2016-2017: Gujarat Lions
2018-2021 : Kolkata Knight Riders
2015,2022-Till Now : Royal Challengers Bangalore
After Dhoni injured a finger, Karthik replaced him for the third Test at Newlands against South Africa for his first Test in over a year. He opened the innings with Wasim Jaffer, allowing Sehwag to bat in the middle order.
He used his domestic experience to score 63 in the first innings, combining in a century opening stand and helping India to 414 (enough for a first-innings lead of 41). In the second innings, Karthik scored an unbeaten 38 as the team were all out for 169. In addition to his batting, his wicket-keeping was praised.
He had a lean Test series against Pakistan at home in late 2008. Karthik managed only 39 in two innings of the first two Tests, exceeding single figures only once.
In the third Test in Bangalore, Sachin Tendulkar was injured; his replacement, Yuvraj, scored 170. Karthik, batting down the order, scored 24 and 52 in a high-scoring draw and kept the wickets because of Dhoni's injury.
In the first innings, Karthik was behind the stumps as India set a world record for the most extras conceded in a Test innings; the 35 byes were the secondmost in Test history.
Comeback
Karthik was recalled to India's T20 set-up after three years for the South Africa tour of India in May 2022. He made his first half-century in the series 16 years after his debut in T20 cricket for India in the 3rd T20 match against South Africa. In June 2022, he was named in India's squad for their T20 series against Ireland.
In July 2022, Karthik was announced as the captain of the Indian cricket team for the 20 over warm-up matches against Derbyshire and Northamptonshire.
He was subsequently named in India's 2022 ICC Men's T20 World Cup squad. Karthik is one of the only two cricketers from the 2022 squad to have also featured in India's victorious 2007 campaign under MS Dhoni, skipper Rohit Sharma being the other.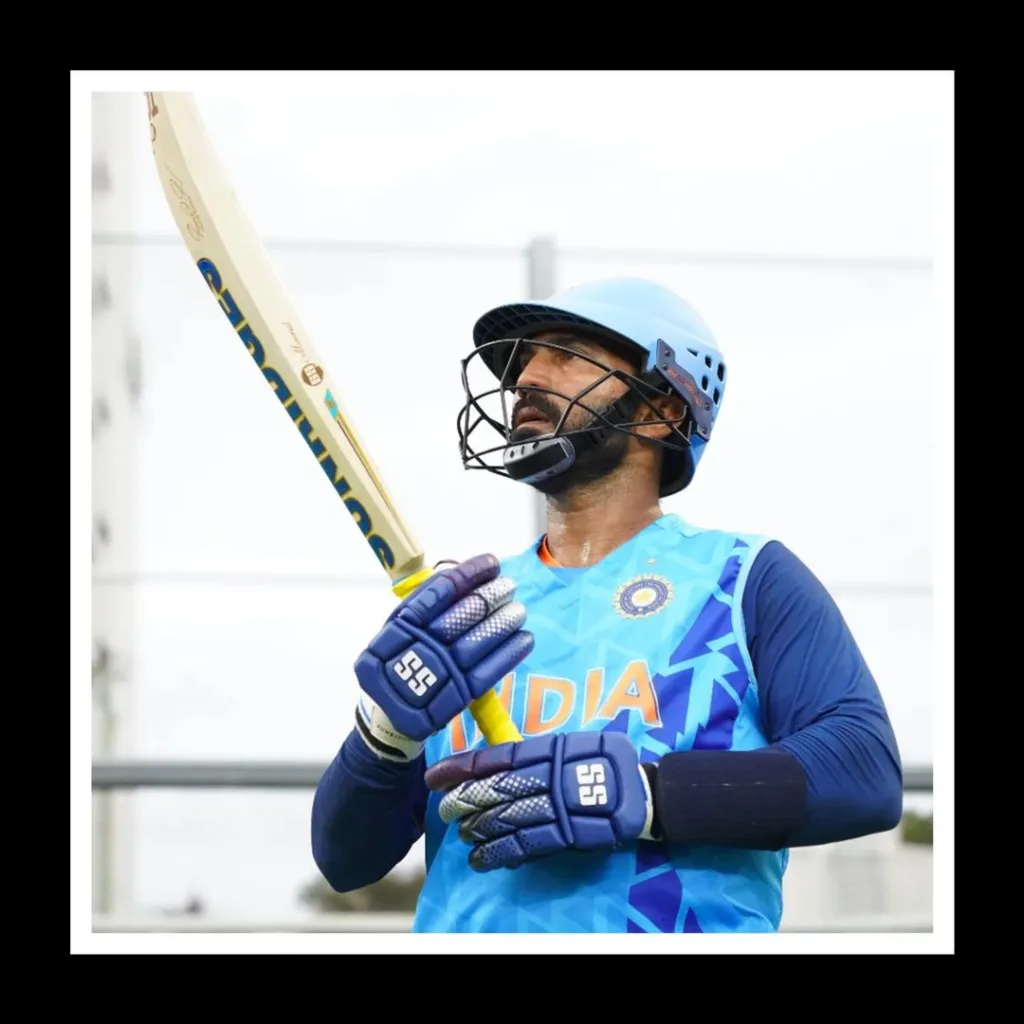 Commentary career
Dinesh Karthik was part of the commentary team during India-England T20I and ODI series held in march 2021. He made his debut behind the mic for the official broadcasters of England and Wales Cricket Board. On 12 March 2021.
Sky Sports announced that Karthik would be part of their commentary team for the inaugural season of the hundred. Dinesh Karthik and former captain Sunil Gavaskar were also the only two Indians to be included in the ICC's on-ground commentary panel for the inaugural ICC World Cup Championship final between India and New Zealand in Southampton.
Dinesh Karthik was also part of the commentary team during England-Sri Lanka T20I and ODI series held in July 2021.
IPL
Karthik played in the 2008 IPL as wicket-keeper for the Delhi Daredevils, scoring 145 runs at 24.16 with a strike rate of 135.51. His highest score was an unbeaten 56 to steer Delhi to a five-wicket win in a group match against the Mumbai Indians.
In the 2009 IPL hosted by South Africa, Karthik played in each of Delhi's 15 matches. He scored 288 runs at 36.00, passing 40 on three occasions and making 17 dismissalas.
Although Delhi topped the tournament's pool stage, Karthik made only nine in the semi-final and Delhi were defeated by six wickets by the Deccan Charges.
In the 2022 IPL Auction, Karthik was bought by the RCB for ₹5.50 crores. He scored 330 runs in 16 innings of 16 matches for RCB that season at an average of 55.00 and a strike rate of 183.33, taking a central role in the Challengers' season.
| | | | | |
| --- | --- | --- | --- | --- |
| Format | Test | ODI | T20I | IPL |
| Matches | 26 | 94 | 60 | 229 |
| Runs Scored | 1025 | 1752 | 686 | 4376 |
| Batting Average | 25.0 | 30.2 | 26.4 | 26.8 |
| 100s | 1 | 0 | 0 | 1 |
| 50s | 7 | 9 | 1 | 20 |
| Highest Score | 129 | 79 | 55 | 97* |
| Wickets | – | 0 | – | – |
| Balls bowled | – | 6 | – | – |
| Bowling Average | – | 0 | – | – |
| 5-Wicket haul | – | 0 | – | – |
| 10-Wicket haul | – | 0 | – | – |
| Best Bowling | – | 0 | – | – |
| Run Outs | 2 | 2 | 1 | 14 |
| Catch/Stumpings | 57/6 | 64/7 | 30/8 | 133/34 |
Dinesh karthik Net Worth
---
According to various online resources the net worth of Dinesh karthik is estimated around $12 million dollars which is 90 crores in Indian Currency.
Cricket
Apart from BCCI match fees, Dinesh karthik is also playing for RCB in IPL . Since many years in of 2022 IPL, Dinesh karthik is also getting an IPL contract every year, from which 5.50 Crores is the current salary of Dinesh karthik for playing from RCB .
Social Media and Advertisements
Dinesh karthik has also a best amount of social media following by which he makes decent amount of money. He had also done many TV commercials for Brands till now.
| | |
| --- | --- |
| Net Worth | $12 Million |
| Net Worth In Indian Rupees | 90 Crore INR |
| Monthly Income And Salary | 2 crore+ |
| Yearly Income | 26 Crore + |
| Income Source | Cricket, Advertisement |
Social Media of Dinesh karthik
---
Dinesh karthik has also a huge amount of Fan following over his social media platforms. He has total 5.5 million followers combining his Instagram, Twitter .
Dinesh karthik posts entertaining content on his Instagram with members of Team India at a period of time. His reels also got viral many times till now.

FAQ (Frequently Asked Questions)
---
1.What is the net worth of Dinesh karthik in indian rupees?
Ans. The net worth of Dinesh karthik in 90 crores in Indian rupees.
2. How old is Dinesh karthik?
Ans.Dinesh karthik is 37 years old.
3. Nick name of Dinesh karthik ?
Ans. Nick name of Dinesh karthik is DK.
4. Which state in Dinesh karthik Belongs ?
Ans. Dinesh karthik Belongs to Tamil Nadu.
5. Is Dinesh karthik A Grade player for BCCI ?
Ans. Not Now Dinesh karthik is A Grade player for BCCI .
READ ALSO
[wp_show_posts id="385″]