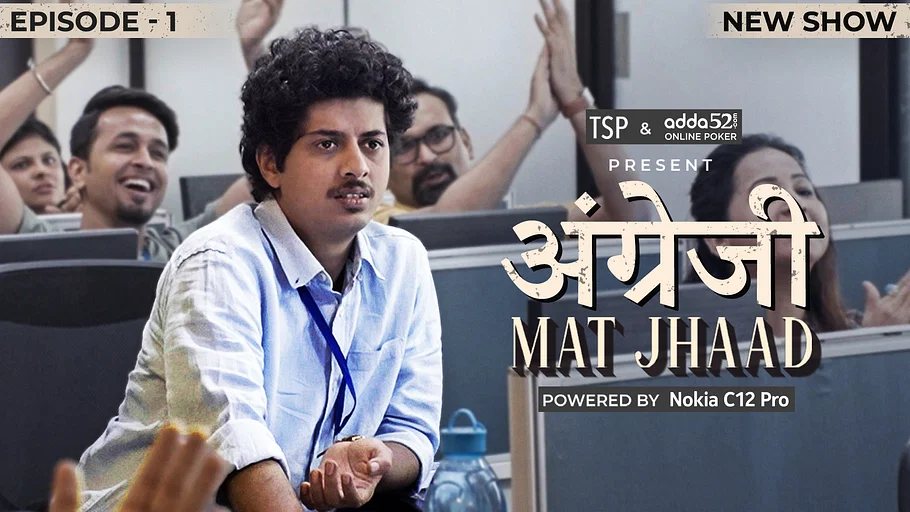 Angrezi Mat Jhaad is the latest web series to hit the digital screens. Produced by The Viral Fever (TVF) and directed by Raghav Subbu, this show is a perfect blend of comedy, drama, and emotions.

The series features Mayur More, who has previously starred in the popular web series Kota Factory, in the lead role. Mayur's impeccable comic timing and acting skills have won the hearts of audiences across the country. In Angrezi Mat Jhaad, Mayur portrays the character of an ambitious young man who is determined to learn English and make a name for himself in the world.
Alongwith Mayur, Deepak Kumar Mishra and Pratish Mehta are playing the supporting roles in the series.

The series follows the story of Mayur's character, who hails from a small town in India, and is obsessed with the English language. He believes that mastering English is the key to success and prosperity, and he is willing to do whatever it takes to achieve his dreams.

The first episode of Angrezi Mat Jhaad, which was aired on The Screen Patti's YouTube channel, has already garnered thousands of views and rave reviews from audiences. The episode introduces us to Mayur's character and his struggles with the English language. We also meet some of the other characters who will play a significant role in the story.
Mayur More's performance in the show is nothing short of brilliant. He effortlessly brings his character to life, and his expressions and mannerisms are spot on. The supporting cast also delivers a fantastic performance, and the chemistry between the characters is palpable.

In conclusion, Angrezi Mat Jhaad is a show that is definitely worth watching. It is a perfect blend of humor, drama, and emotions, and it is a refreshing change from the usual fare that we see on digital platforms. With Mayur More's stellar performance and a talented supporting cast, this show is sure to be a hit among audiences of all ages. So, if you haven't watched it yet, go ahead and give it a try. You won't be disappointed!