Shakib Al Hasan
Shakib Al Hasan is an Bangladesh Cricketer. Being Left Handed Batsman & Right-arm medium Bowler, in the Bangladesh national cricket team.
| | |
| --- | --- |
| Born | 24 April 1987, Magura |
| Profession | Cricketer |
| Height | 5 ft 9 inch (175 cm) |
| Father | Khondoker Masroor |
| Mother | Shirin Reza |
| Wife | Umme Ahmed Shishir |
Bio
---
Shakib Al Hasan was born on 24 April 1987, Magura, Khulna, Bangladesh. His age is around 36 years (2023).
He married Umme Ahmed Shishir, a Bangladeshi American on 12 December 2012. The couple met in 2010 while Shakib was playing country cricket for Worcestershire in England.
They had their first daughter Alayna Aubrey Hasan on 8 November 2015, their second daughter Errum Hasan on 24 April 2020 and their first son Eyzah Al Hasan on 16 March 2021.
Career
---
hakib Al Hasan is a professional cricketer from Bangladesh. He is considered one of the best all-rounders in the world and has represented his country in all three formats of the game – Test, One Day International (ODI) and Twenty20 International (T20I).
He cracked his first ODI ton against Canada in the tri-series played in the West Indies, just before the 2007 World Cup. He scored a composed fifty and bowled 10 tight overs for 44 runs without a wicket as Bangladesh secured a big win over India.
His consistent performances enhanced his reputation. He went on to score a century against Pakistan, later in the year.
Shakib was ranked No. 1 among the all-rounders by the ICC thanks to his consistency. He took over the captaincy from Mohammad Ashraful and led from the front.
He picked up five wickets and went on to score an unbeaten 96 in the second Test in Grenada against a depleted West Indies side. Bangladesh eventually won the Test series 3-0.
Country
Bangladesh
Test Debut
18 May 2007 v India
ODI Debut
06 August 2006 v Zimbabwe
T20I Debut
27 November 2006 v Zimbabwe
Jersey No.
75
IPL
2011-2017, 2021: Kolkata Knight Riders
2018-2019: Sunrisers Hyderabad
Despite leading Bangladesh to wins against England, Ireland and Netherlands in the 2011 World Cup, the team crashed out and many people blamed Shakib. He put aside all the criticism and performed well for Kolkata in the 2011 IPL.
Captaincy and vice-captaincy (2009–2011)
At the beginning of 2009, there was speculation over Mohammad Ashraful and his position as captain after a succession of defeats for Bangladesh and continuous poor form for Ashraful. Shakib was considered a possible successor by the Bangladesh Cricket Board (BCB).
However, the BCB was cautious of over-burdening the all-rounder and decided against the move. Other candidates were discounted, and Ashraful remained as captain.
Later in 2009, Ashraful's captaincy was again under scrutiny after Bangladesh exited the 2009 ICC World Twenty20 in the first round following losses to Ireland and India.
When Mashrafe Mortaza replaced Mohammad Ashraful in June 2009, Shakib was appointed vice-captain, filling the position vacated by Mortaza.
Record
On 12 January 2015, Shakib became the first and only cricketer in history to be ranked the 'No.1 all-rounder' by ICC in its Player Ranking in all three formats of the game (Test, One Day International and T20 Internationals).

Only all-rounder to 6000 runs and 300 wickets double across all formats in a single country (Bangladesh).

Highest partnership record for any wicket for a Bangladeshi pair in ODIs, with Mahmadullah (224). (This is also the highest ever 5th wicket runs stand in the history of ICC Champions Trophy.

Fastest and one of the fifth all-rounder to 3000 runs and 200 wickets double in Tests (54 matches).

Fastest and one of the fifth all-rounder to 5000 runs and take 250 double in ODI (in 199 matches).

In the annual ICC Awards in January 2022, Shakib Al Hasan was named in ICC Men's ODI Team of the year for the year 2021.
Controversy
Shakib Al Hasan has been involved in a few controversies throughout his career. Here are some of the notable ones:
Breach of ICC Code of Conduct: In 2019, Shakib was banned for two years (one year suspended) by the International Cricket Council (ICC) for breaching the Anti-Corruption Code. Shakib had failed to report several approaches made to him by a bookmaker. He was also found to have accepted gifts from the bookmaker. The ban meant that he missed the 2020 Indian Premier League (IPL) and the 2020 World T20.

On-field behavior: Shakib has been involved in a few incidents of poor on-field behavior. In 2016, he was fined 50% of his match fee for an altercation with Sri Lankan player Upul Tharanga. In 2017, he was fined 25% of his match fee for an argument with the umpire during a domestic match.

Criticism of team management: In 2018, Shakib was criticized by the Bangladesh Cricket Board (BCB) for publicly criticizing the team management. Shakib had accused the team management of not giving him enough support during the Asia Cup.
Disciplinary issues
In October 2010, Shakib was on 92 in the fourth ODI against New Zealand, when there was movement near the sightscreen, which the umpires failed to stop.
After a few minutes Shakib, Bangladesh captain at the time, ran towards the sightscreen, hurled abuse and threatened to hit the offender with his bat. He was later warned by the match referee.
In March 2022, he was included in the Bangladesh's squad for their Test and ODI Series against South Africa to be played in March–April 2022. But after the Afghanistan series, while leaving for vacation in Dubai, he stated in front of media that he is not in a physical and mental state to play in South Africa, even he felt like "a passenger" during the recently concluded Afghanistan series.
In reply, BCB President Nazmul showed frustration for his selective match playing and questioned his commitment towards national team. Later, he was given a break until 30 April 2022 from all forms of cricket. However, a day after, he was officially given rest by the board, he agreed to tour South Africa to play in both ODI and Test series.
IPL
Shakib Al Hasan has played in the Indian Premier League (IPL) for several franchises over the years. He made his IPL debut in 2011 for the Kolkata Knight Riders (KKR) and played for them for three seasons.
He then played for the Sunrisers Hyderabad (SRH) from 2018 to 2020, and was part of their title-winning team in 2018.
In the IPL, Shakib is known for his all-round skills, which include his ability to bowl in the powerplay and middle overs, as well as his ability to score runs quickly in the lower middle order.
He has also been a reliable fielder, often taking spectacular catches.
Overall, Shakib has played 63 matches in the IPL, scoring 746 runs at an average of 21.31 and taking 59 wickets at an average of 27.72. He has also been named Player of the Match four times in his IPL career.
However, Shakib missed the 2020 edition of the IPL due to his ban for breaching the ICC's Anti-Corruption Code. He is likely to be available for the upcoming edition of the tournament in 2023, and it remains to be seen which franchise he will play for.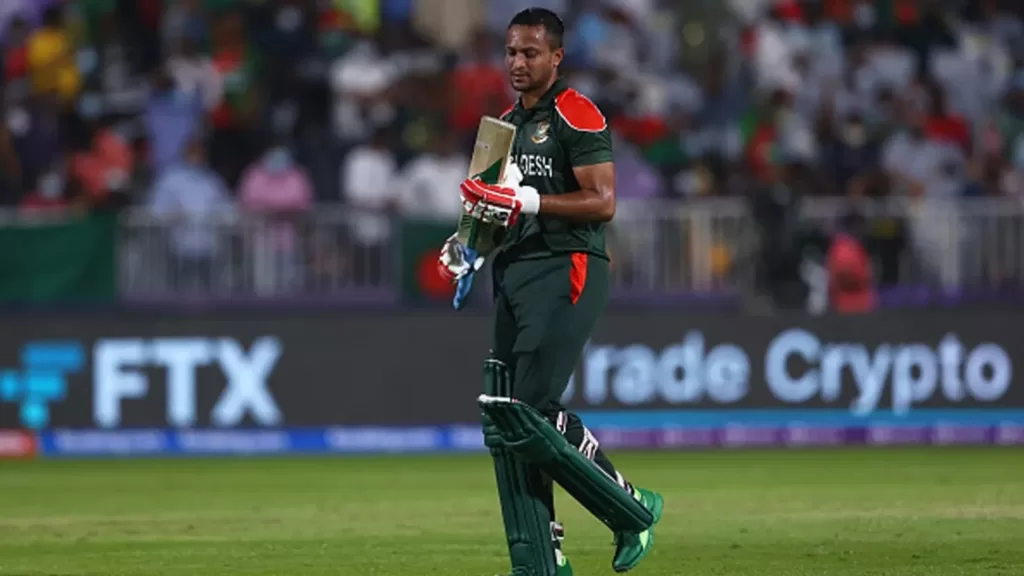 Shakib Al Hasan Stats
| | | | | |
| --- | --- | --- | --- | --- |
| Format | Test | ODI | T20I | IPL |
| Matches | 65 | 224 | 109 | 71 |
| Runs Scored | 4874 | 6996 | 2243 | 793 |
| Batting Average | 39.4 | 36.6 | 23.5 | 19.8 |
| 100s | 8 | 9 | 0 | 0 |
| 50s | 34 | 50 | 12 | 2 |
| Highest Score | 217 | 134* | 84 | 66* |
| Wickets | 231 | 294 | 128 | 63 |
| Balls bowled | 14679 | 11531 | 2385 | 1484 |
| Bowling Average | 31.2 | 29.1 | 21.2 | 29.2 |
| 4-Wicket haul | 10 | 9 | 5 | 0 |
| 5-Wicket haul | 19 | 4 | 1 | 0 |
| 10-Wicket haul | 0 | 0 | 0 | 0 |
| Best Bowling | 7/36 | 5/29 | 5/20 | 3/17 |
| Run Outs | 5 | 23 | 6 | 6 |
| Catch/Stumpings | 26/- | 54/- | 25/- | 14/- |
Shakib Al Hasan Net Worth
---
According to various online resources the net worth of Shakib Al Hasan is estimated around which is 110 crores in Indian Currency.
Social Media and Advertisements
Shakib Al Hasan has also a best amount of social media following by which he makes decent amount of money. He had also done many TV commercials for Brands till now.
| | |
| --- | --- |
| Net Worth | $22 Million |
| Net Worth In Indian Rupees | 110 crores INR |
| Monthly Income And Salary | 50 Lakhs+ |
| Yearly Income | 6 Carores+ |
| Income Source | Cricket, Advertisement |
Social Media of Shakib Al Hasan
---
Shakib Al Hasan has also a huge amount of Fan following over his social media platforms. He has total 4.7M followers combining his Instagram and Twitter.
Shakib Al Hasan posts entertaining content on his Instagram with members of Team India & Bangladesh at a period of time. His reels also got viral many times till now.

FAQ (Frequently Asked Questions)
---
1.What is the net worth of Shakib Al Hasan in Indian rupees?
Ans. The net worth of Shakib Al Hasan in 110 crores in Indian rupees.
2. How old is Shakib Al Hasan?
Ans. Shakib Al Hasan is 35 years old.
3. Nick name of Shakib Al Hasan ?
Ans. Nick name of Shakib Al Hasan is Moyna & Faysal.
4. Which country in Shakib Al Hasan Belongs ?
Ans. Shakib Al Hasan Belongs to Bangladesh.
5. Is Shakib Al Hasan played IPL ?
Ans. Shakib Al Hasan currently played IPL for Kolkata Knight Riders.
6. IPL fees of Shakib Al Hasan in 2023?
Ans. Shakib Al Hasan paid 1.5 Crore for 2023 IPL.
WEB STORIES
READ ALSO