Peyush Bansal
Peyush Bansal is an Entrepreneur and CEO of Lenskart. He also appeared in Shark Tank India as one of the Sharks in both the seasons.
| | |
| --- | --- |
| Born | 26 April 1985, Delhi, India |
| Height | 5ft 7 in (165 cm) |
| Wife | Nimisha Bansal |
| Father | Bal Kishan Bansal |
| Mother | Kiran Bansal |
Bio
---
Peyush Bansal age is around 37 years old. He was born on 26 April 1985 in Delhi, India. He is 5ft 7in tall.
Family
Peyush Bansal was born to Bal Kishan Bansal and Kiran Bansal. He also have an elder brother and a sister named Neha Bansal.
Peyush got married to Nimisha Bansal and the couple also has a son.
Education
Peyush has a bachelor's degree in Electrical Engineering from McGill University, Montreal, Canada since 2002- 2006. After that, he also gone to IIM Bangalore and done MPEFB.
Career
---
Peyush started his career as a programmer in Microsoft, he worked as a programmer for 1 year from January 2007 to December 2007. After that Peyush launched as campus classifieds portal called "SearchMyCampus", SearchMyCampus is India's no. 1 Campus Classifieds Portal. The basic purpose for the portal is to enable college students solve their most common needs (such as jobs, housing, coaching, books, transportation, etc.) easily .
In 2010, Peyush along with Amit Chaudhary and Sumeet Kapahi launched Lenskart on online portal selling contact lenes. The company then expanded its operation and began selling eyeglasses and sunglasses within a year.
In 2019, Lenskart became a unicorn with it's net assets being $1.5 billion; a unicorn is a privately held startup company valued at over $1 billion.
Honors & Awards
He was honoured with British Association Medal by McGill University in 2006.
In 2019 Peyush was listed in Fortune India's- Best 40 under 40 entrepreneurs".
In December 2021, Peyush appeared as one of the sharks (as Judge) in "Shark Tank India Season -1 " after that he also appeared in "Kapil Sharma Show" along with other Sharks and also appeared in show "Kaun Banega Crorepati" .
CEO & Founder
During his career he started startup, "SearchMyCampus" in 2007, and after that started "LensKart" along with Amit Chaudhary and Sumeet Kapahi. And now, he is CEO & Founder of Lenskart since 2010.
Peyush has also made major investments in companies like Feedo and dailyobjects.com.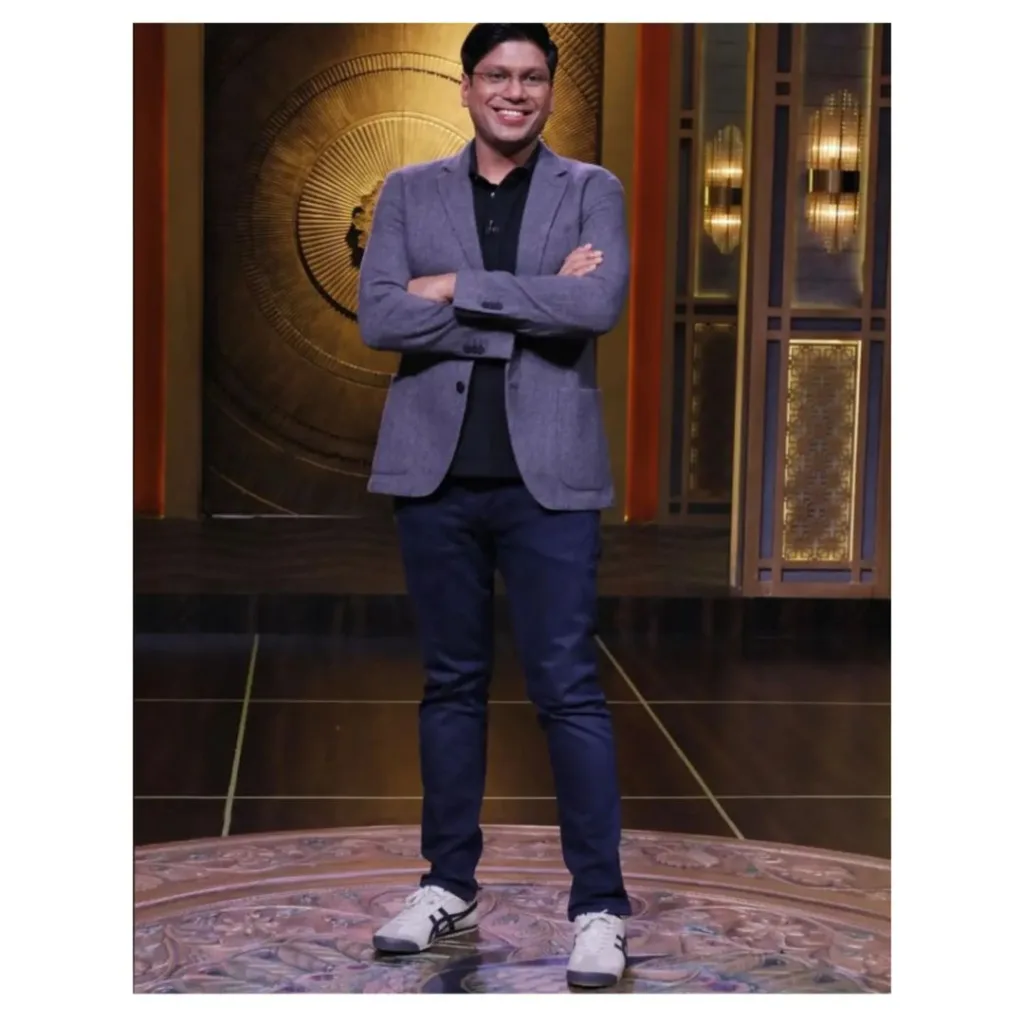 Peyush Bansal Net Worth
---
Peyush Bansal is founder and CEO of 'Lenskart'. Estimated net-worth in 2022 is $8 Million which is around 650 Crore in rupees.
Peyush charges around 7 Lakhs rupees per episode in Shark Tank India.
| | |
| --- | --- |
| Net Worth | $8 Million |
| Net Worth In Indian Rupees | 650 Crore INR |
| Monthly Income And Salary | 3 Crore + |
| Yearly Income | 35 Crore + |
| Income Source | Business |
Social Media of Peyush Bansal
---
FAQ (Frequently Asked Questions)
---
1. From where Peyush Bansal completed his engineering?
Ans. Peyush Bansal completed his engineering from McGrill University.
2. Where is Peyush Bansal from?
Ans. Peyush Bansal is from New Delhi.
3. What is age of Peyush Bansal?
Ans. Peyush Bansal is 36 years old.
4. What is net worth of Peyush Bansal?
Ans. Peyush Bansal net worth is 650 Crore .
5. What is the wife name of Peyush Bansal?
Ans. Peyush Bansal wife name is Nimisha Bansal.
6. How much Peyush Bansal invested in Shark Tank India Season 1?
Ans. He invested around 8.297 Crore in 27 Deals.
READ ALSO
[wp_show_posts id="524″]