Arnab Goswami
Arnab Goswami is an Indian journalist and anchors a show on Republic Media Network.
| | |
| --- | --- |
| Born | 7 March 1973 |
| Height | 5 ft 11 inches (180 cm) |
| Father | Manoranjan Goswami |
| Mother | Suprabha Gain-Goswami |
| Spouse | Samyabrata Ray Goswami |
| Profession | Anchor and Journalist |
Bio
---
Arnab Ranjan Goswami (born 7 March 1973) is an Indian news anchor and journalist, who is the managing director and editor-in-chief of Republic Media Network.
Before Republic TV, Goswami was the editor-in-chief and a news anchor of Times Now and ET Now, from 2006 to 2016. Previously, he had also served stints at NDTV and The Telegraph. On Times Now, he anchored The Newshour, a live debate at 9 pm (IST) weekdays, which propelled him to widespread fame
Family
Goswami was born in Guwahati, in an Assamese family of Manoranjan Goswami and Suprabha Gain-Goswami. His father, Manoranjan Goswami joined the Indian Army in the early 1960s and retired as a colonel after serving in the army for nearly 30 years.Upon retirement he joined the Bharatiya Janata Party and was the party's unsuccessful candidate in 1998 Lok Sabha Polls for the Guwahati constituency. Arnab's mother, Suprabha Gain-Goswami is an author.
His paternal grandfather Rajani Kanta Goswami was a lawyer. His maternal grandfather, Gaurisankar Bhattacharyya, was an elected legislator from the Communist Party of India and served as the leader of the opposition in Assam for many years.
Goswami is married to Samyabrata Ray Goswami. She is also a journalist and a co-owner of Republic TV. The couple has a son, Che Goswami, named after the revolutionary Che Guevara.
Education
An army officer's son, Goswami attended schools across various parts of India. He completed his 10th grade of school from the Mount St Mary's School, New Delhi and his 12th grade from Kendriya Vidyalaya in Jabalpur Cantonment. Goswami has a Bachelor's degree in Sociology from the Hindu College in Delhi University. In 1994 Goswami completed his Master's in Social Anthropology from St. Antony's College, at Oxford University, where he was a Felix Scholar.
In the year 2000, Arnab was a Visiting DC Pavate Fellow at the International Studies Department at Sidney Sussex College, Cambridge University.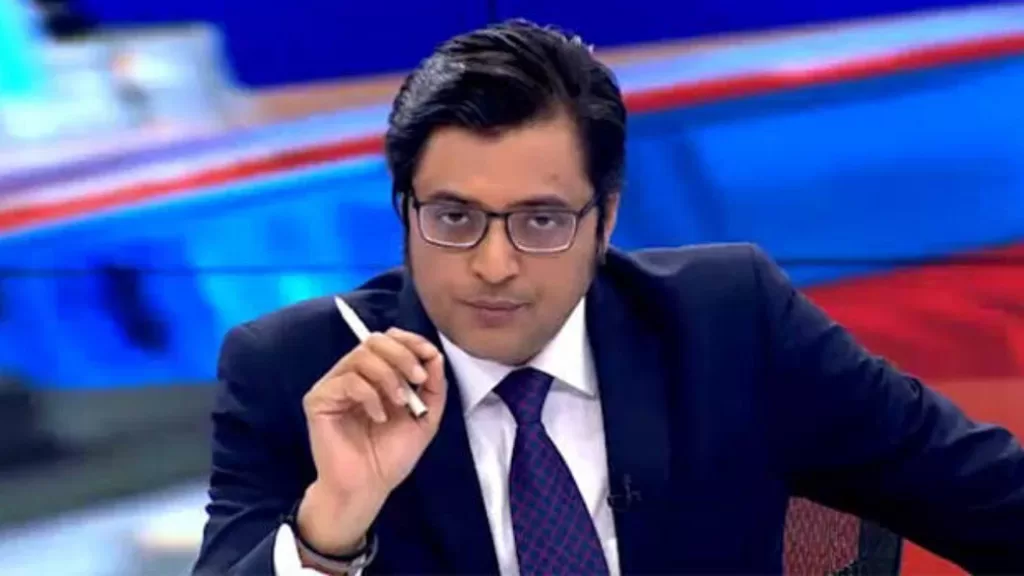 Career
---
Arnab Goswami started his career in Journalism with The Telegraph in Kolkata and within a year moved to Delhi and joined NDTV. In NDTV, Goswami anchored 'News Hour' and simultaneously anchored 'News Tonight', which was telecasted for DD Metro. In 2004, Goswami won the Best News Anchor of Asia in Asian Television Awards for 'Newsnight.'
In the year 2006, Arnab Goswami joined Times Now news channel as its editor-in-chief and left NDTV. In Times Now, Arnab hosted a program Frankly Speaking with Arnab, where he interviewed eminent personalities like Benazir Bhutto, Hamid Karzai, Dalai Lama, Hillary Clinton, Narendra Modi, etc.
On November 1, 2016, Goswami left Times Now citing editorial differences, lack of journalistic freedom and newsroom politics.
On May 6, 2017, Arnab started his new venture Republic TV which was funded by Asianet. Asianet was primarily funded by Rajeev Chandrashekhar– the then independent member of Rajya Sabha who had links with BJP and was the vice-chairman of National Democratic Alliance in Kerala. He later resigned as the director of Asianet after joining BJP officially. Republic TV became the most-watched English news channel in India since its establishment for 100 weeks in a row.
On April 20, 2020, Goswami resigned as a member of Editors Guild of India on live television citing several reasons and accusing its President Shekhar Gupta. 
Achievements
1. In 2008, Arnab Goswami was honoured with the Ramnath Goenka Award for Excellence in Journalism.
2- In 2012, Arnab Goswami won the ENBA Awards for News Television Editor-in-Chief of the year.
3- On December 8, 2019, Arnab was unanimously elected as the President of News Broadcasting Federation. The federation consists of 78 channels which sought to replace NBSA.
4- He hosted the show on 26/11 Mumbai terror attacks for 65 hours, live anchoring for 26 hours for October 2008 Trust vote.
Arnab Goswami Net Worth
---
Arnab Goswami net worth is $34 million. This in Indian currency is approximately equal to Rs. 253 Crores Rupee.
| | |
| --- | --- |
| Net Worth | $34 Million |
| Net Worth In Indian Rupees | 253 Crores INR |
| Monthly Income And Salary | 1.5 Crore + |
| Yearly Income | 16 – 18 Crore + |
| Income Source | Indian Journalist |
FAQ (Frequently Asked Questions)
---
1. What is age of Arnab Goswami
Ans. Arnab Goswami is 50 Years old.
2. Who is Arnab Goswami?
Ans. Arnab Goswami is an Indian journalist and anchors a show on Republic Media Network.
3.What is the salary of news reporter Arnab Goswami?
Ans. Arnab Goswami earns an estimated salary of Rs. 12 crore Per Year.
4. What is net worth of Arnab Goswami?
Ans. Arnab Goswami's net worth is Rs. 253 Crores INR.
5. Who is the wife of Arnab Goswami?
Ans. Samyabrata Ray Goswami is the wife of Arnab Goswami.
WEB STORIES
READ ALSO